Fiat's new Phylla minicar concept was developed by Centro Ricerche Fiat to display the Italian automaker's latest green-car technologies. The experimental urban electric vehicle is powered by a hydrogen fuel cell and comes equipped with photovoltaic solar cells.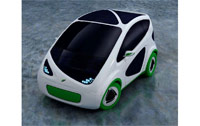 Fiat CEO Sergio Marchionne revealed that this electric concept is the forerunner to Fiat's new Topolino minicar family, and one of the vehicles will be an all-electric vehicle based on this fun-sized Phylla. The goal of the Phylla project was to create an urban car that costs 10 times less to drive than a conventional gasoline-powered vehicle.
The split-frame vehicle is made of a mix of aluminum and bioplastics. The Phylla name, which means "leaf" in ancient Greek, seems appropriate: The car is fully recyclable and solar-capable and can do just about everything with sunlight except create photosynthesis.
The design uses modern styling cues while still allowing room for the innovative features that define the vehicle. An asymmetrical layout offers great visibility to the driver and gives off a different visual impression depending on the onlooker's point of view.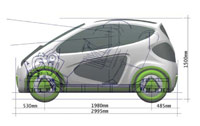 Fiat's Phylla is equipped with 15-inch rims wrapped in green-colored tires and ambles to 30 mph in less than 6.0 seconds. Its peak output is 72 horsepower, and the vehicle can get up to speeds as high as 81 mph.
Although there is speculation that the Fiat 500 might find its way to the States by 2010, there are no plans to bring the Phylla to the U.S. anytime soon.
This electric minicar should be priced at around the cost of the other Topolino variants, which start at $19,500.