A simple off the shelf wind turbine could change the way consumers feel about wind power by reducing the cost and complexity of installation by seven fold.
The innovative wind turbine is the first major launch of a commercial product from the Grand Valley State University energy center in Muskegon. Plans are to sell the turbine at home improvement stores for less than $2,000 to homeowners who can use it to provide up to 20 percent of their electricity.
E-Net LLC -- a technology development company brought to GVSU's Michigan Alternative and Renewable Energy Center by the center's executive director, Imad Mahawili -- has signed an exclusive licensing agreement with Muskegon-based EarthTronics to develop, manufacture and market the WindTronics turbine line.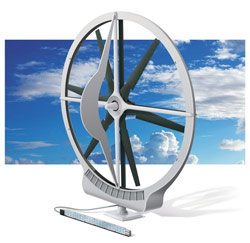 EarthTronics President Reg Adams said his company is working on a refined prototype that could be put into production by the first quarter of 2009. Adams said the initial units will be assembled in Muskegon with parts potentially coming from across the globe. Muskegon vendors are being sought for the units made of metal and composite plastics.
Besides a residential unit for developed countries, EarthTronics also is looking to produce a smaller, even less expensive unit that is targeted for rural villages without electricity in developing countries. Adams said that Mahawili's innovative wind turbine design is ideal for remote locations needing small amounts of electrical power.
"This is huge," Adams said of the potential for the WindTronics units, expected to be sold in the "hundreds of thousands" for the initial models. "Imad's design is amazing. One of the keys to this is the design of simple technologies."
The specifics and details of the "wind turbine in a box" are not being released as commercialization continues. E-Net has U.S. patents pending on the turbine technology that Mahawili describes as "gearless."
The lack of a traditional gear box reduces friction and allows the WindTronics turbine to begin generating power at 3 mph of wind speed. Standard wind turbine technology allows power to be generated above 8 mph and cuts off when winds climb 30 mph or more. WindTronics has no upper wind speed restrictions.
"Our goal is to supply power in the 3-15 mph wind range; we can accomplish that," Adams said. "We want to be less than $2,000 per unit. We know we are there right now."
An initial 200-watt, 36-inch diameter WindTronics unit will drive the costs down to where wind generation becomes economically competitive with utility-provided power, Mahawili said. A typical house needs 1.2-kilowatts of power, he said.
A competitor likely will be Cascade Engineering in Grand Rapids, which is putting one of its 1.5-kilowatt Swift Turbines on the Frauenthal Center for the Performing Arts in Muskegon as a demonstration project. The Swift unit is retailing for about $15,000.
The WindTronics 200-watt unit will take care of about 10 percent to 20 percent of a normal residential home's electrical needs. The EarthTronics turbines could be used to charge a battery or be converted to integrate into a home's electrical system. The units will need an electrician for installation, Adams said.