Intel has spun off its SpectraWatt photo-voltaic division which develops and manufactures the building blocks of solar-energy systems.
SpectraWatt will develop photo-voltaic cells for companies that make solar panels which convert sunlight into electricity.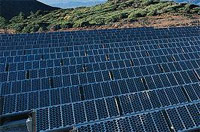 The new organisation's cell fabrication plant will be built in Oregon and expects to begin supplying the market by mid-2009.
Research and development will concentrate on making the cells and their manufacturing process more efficient.
This is the same model on which Intel's processor business has operated for four decades, in that the advances in fabrication processes are as important as the design of the chips themselves.
SpectraWatt is starting life with $50m in the coffers from an impressive line-up of financial backers, including Intel Capital, the chip-maker's venture arm.
Currently, the cost of solar energy is twice that of retail electricity, Intel said. Reducing the cost of solar energy should ensure continued industry growth of 30 percent to 40 percent annually, according to the chip maker.
The new CEO of SpectraWatt will be Andrew Wilson, former general manager of Intel's New Business Initiatives group. The statement quotes Wilson as saying the goal of SpectraWatt is to move toward long-term national energy independence.
Other investors include Cogentrix Energy LLC, the power generation subsidiary of investment bank Goldman Sachs, private equity group PGC Clean Energy Technology Fund and German solar systems supplier Solon AG.
Generous government investment in Germany has made the country a world leader in solar energy. German companies are increasingly attracting interest from global venture funds.
"SpectraWatt is a great example of technology resulting from entrepreneurial efforts inside Intel," Arvind Sodhani, president of Intel Capital and Intel executive vice president, said in a statement. "This is an important investment for Intel Capital in the growing cleantech sector and we look forward to working with the company to support its expansion."