Toyota said it's going to take hybrid engine technology to the next level in the next couple of years, promising plug-in hybrids in Japan, U.S. and Europe by 2010.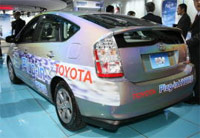 The automaker has been targeting large fleet customers looking to lower the gas bill.
Toyota said it will introduce a plug-in hybrid with it's next-generation lithium-ion batteries -- gas-electric vehicles that can be recharged from a home electrical outlet.
Most hybrids, such as Toyota's Prius, have nickel-metal hydride batteries, while lithium-ion batteries -- which are now common in laptops -- produce more power and are smaller.
A joint venture between Toyota and Panasonic EV Energy plans to begin production of lithium ion batteries next year and move to full-scale production in 2010. Using the battery, Toyota plans to introduce a small electric vehicle for mass production.
Japan's top automaker, which leads the industry in gas-electric hybrids, has said it will rev up hybrid sales to one-million a year sometime after 2010.
Toyota has been close to overtaking General Motors as the world's number one automaker.
General Motors also said it will ramp up hybrid production and planned a Chevrolet Volt plug-in electric vehicle, while Nissan Motor Co. has been planning electric vehicles for the U.S. and Japan.
Honda Motor Co. will also develop new hybrid models, targeting sales of 500,000 hybrids a year sometime after 2010.