Global Solar Energy, a solar industry leader that manufactures highly-efficient thin-film solar cells for glass modules or flexible material products, has announced a major breakthrough for silicon module and Building Integrated Photovoltaic (BIPV) manufacturers looking to quickly and efficiently incorporate thin-film technology into their manufacturing processes.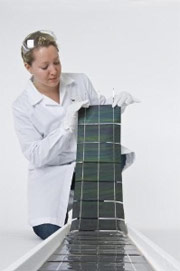 Global Solar's new PowerFlex Solar Strings provide a pre-connected format to its Copper Indium Gallium diSelenide (CIGS) cells that makes it easy for product designers and module manufactures to quickly and easily benefit from the low cost, high efficiency and flexible nature of CIGS. Global Solar is introducing the PowerFlex Solar Strings at Intersolar in Munich, Germany, with product demonstrations available at the Company's booth in Hall B4, Stand 139.
"Thin-film photovoltaics are gaining attention and market share," said Alfonso Velosa, research director at Gartner. "Roll-to-roll manufacturing processes, a method used by Global Solar Energy, have the potential to be a disruptive technology in the photovoltaic industry, helping to generate greater activity in BIPV application development."
Currently, silicon-based module manufacturers must make heavy capital investments in order to switch to thin-film and leverage its advantages over costly and rigid silicon. With this new offering, Global Solar delivers the industry's first, drop-in replacement solar strings that make it easy for product and module companies to fit thin-film cells into their current manufacturing processes. In addition, Global Solar's CIGS cells are produced on a bendable substrate, providing manufacturers with flexible solar material that is adaptable in shape and size, opening the door for new and innovative designs for the growing building integration markets.
"As more companies enter the thin-film market, the technology will continue to create new innovations and possibilities for solar energy's future," said Mike Gering, president and CEO of Global Solar. "Our PowerFlex Solar Strings help harness this potential, driving thin-film adoption by delivering the only drop-in offering that makes the technology accessible to any interested original equipment manufacturer. Global Solar is dedicated to helping expand the thin-film marketplace, growth which is essential if BIPV products and the future of green buildings are to become a cost-effective and realistic option."
Global Solar is able to deliver its PowerFlex Solar Strings due to the Company's "roll-to-roll" manufacturing process, which is not only significantly more cost-effective than traditional in-line manufacturing approaches but also creates a flexible, resilient product that can be adapted for multiple applications. Currently, most thin-film processes deposit materials directly on glass, fixed-size modules, making deviations in their current manufacturing processes difficult. PowerFlex Solar Strings users can now leverage Global Solar's leading technology and products—enabling new products and markets to mature faster.