Enphase Energy, Inc. has announced the general availability of the Enphase Energy Micro-inverter System. The heart of the system, the Enphase Micro-inverter, utilizes advanced technologies to maximize energy harvest and increase reliability of solar systems. In addition, the Enphase Micro-inverter turns each solar module into a "smart" module by connecting it to the Internet, thereby providing unprecedented visibility and analysis of solar system performance. Installers and owners of Enphase Micro-inverter Systems will benefit from dramatically simplified design, installation and management of their solar energy systems. As a result, this new approach can help accelerate the broad adoption of solar technology by increasing the return on investment of residential and commercial solar systems.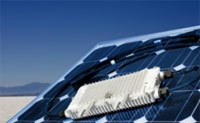 "The Enphase Energy team is proud to bring to the solar market the industry's first micro-inverter system. We have over 1,000 units deployed in the field and customers are seeing energy harvest increases of 5-25 percent and balance-of-system (BOS) savings of 13-15 percent compared to systems designed with traditional inverters," said Paul Nahi, President and CEO of Enphase Energy, Inc.
The Enphase system is comprised of the following three components:
-- Enphase Micro-inverter: This fully integrated device converts the DC output of a single solar module into grid-compliant AC power. The Enphase Micro-inverter maximizes energy harvest, increases system reliability, and simplifies design, installation and management of solar systems.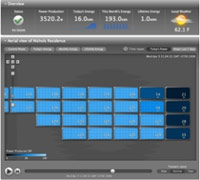 -- Enphase EMU (Energy Management Unit): This device allows solar performance data to be transmitted from the micro-inverters across a standard AC power line, eliminating the need for additional wiring, thereby keeping installation costs and complexity down.
-- Enphase Enlighten™: This web-based visualization and analytics tool provides production insight on a per-module basis. The system constantly monitors each module, automatically detects any shortfall in energy production, establishes a possible cause, suggests solutions and promptly alerts the owner of the issue.
"The Enphase Micro-inverter System truly is a revolutionary technology," said Michael Hall, President, Borrego Solar Systems. "We have been beta testing these new inverters at several residential sites, and the technology has performed extremely well. The Enphase team has taken a holistic approach to addressing a key area of improvement within the solar industry: energy harvest. We expect that the launch of the Enphase Micro-Inverter System will have a significant impact on both residential and commercial solar installations, and we look forward to working with them for years to come."