G24 Innovations ("G24i") has announced that Morgan Stanley Principal Investments ("MSPI") has invested US$20 million in G24i.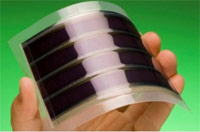 MSPI's investment comes in the form of newly issued ordinary shares, giving it a minority stake and the right to appoint a director to the Board.
MSPI will be the lead investor in G24i's ongoing fundraising, in which the Company expects to raise additional primary capital to fund growth in the next two years. Founders and existing shareholders Robert Hertzberg, Chairman of the Board, and Edward Stevenson, Chief Executive Officer, will continue to hold the majority of G24i's share capital.
Commenting on the transaction, Andrés Rubio, Head of MSPI Europe, said, "We are looking forward to working with G24i to further develop the company's business and create additional growth opportunities. This investment is a milestone for MSPI as it is our first investment in the European solar energy space and highlights Morgan Stanley's ongoing commitment to the renewable energy sector."
Robert Hertzberg, Chairman of G24 Innovations, added: "We are very pleased with the investment by MSPI which enhances G24i's investor base and creates new opportunities through access to Morgan Stanley's global network. MSPI is the ideal new partner to help G24i reach its growth objectives. We look forward to working together to further expand the business."
Our automated "roll-to-roll" manufacturing process transforms a lightweight roll of metal foil into a 100-pound half-mile of G24i's Dye Sensitised Thin Film in less than three hours. This material is rugged, flexible, lightweight and generates electricity even indoors and in low light conditions.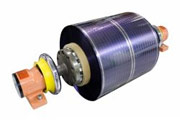 The announcement comes at an exciting time for G24i. Having launched its first product, a solar powered mobile telephone charger, at the end of 2007, the business is now looking to expand and capitalise on its recent growth. Its latest innovation, a solar powered LED light, was awarded a $200,000 'Lighting Africa Development Marketplace' grant by the World Bank and IFC in May and is expected to be released.